Don't want to give certain types of access to 3rd party websites anymore? You can revoke the dApp from within your wallet settings on both our web wallet and within the iOS app!
Go to https://wallet.bitski.com or to the "WalletConnect" section of the iOS app. (The Walletconnect Icon in the top right with the camera for scanning QR codes)
Go to "Account settings" in iOS, or directly navigate to https://user.bitski.com/settings on desktop while signed into your wallet.
Scroll down to the bottom under "Connections" and hit the "Disconnect" button for each dApp you want to remove from your wallet.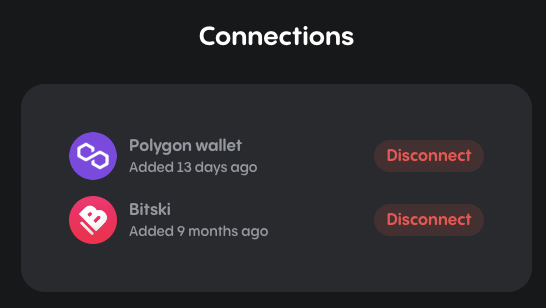 Please note that disconnecting your wallet from certain dApps doesn't mean that funds or NFTs you have already approved for use are suddenly "safe" or are unable to be used anymore. Connecting to a dApp is usually just giving read access, which is a different action than approving a contract to manage your funds/ NFTs.
If you have any questions about what you are signing with your wallet, please reach out to us at support@bitski.com!